Approval Path start parametrization
It's about convenience and more!
What is parametrization?
In this context, parametrization is a rather fresh feature of Approval Path, and we think it could boost user experience a lot! Well, at least for users that use Approval Path more excessively.
Here is why!
Functionalities
Parametrization will allow you to re-use an existing path (definition) while you conveniently rename the approval just before you start it!

Also it allows you to set expiry dates. 🙂
Re-using existing definitions
The problem
In the past, if you wanted to request approvals, you would have to create a definition with particular steps and select the users in the definition, then came the age of dynamic steps where the Approval Path would assign the steps based on field values. But, one thing remained imperfect! The definition name!
Regardless of how dynamic the steps are, the name remained unchanged and therefore forcing user to create a new definition or changing the original definition name all together from settings.
The solution
Introducing parametrization, now you can change the definition name to better suit the approval request and be meaningful!
Here is a quick mind map to visualize the process.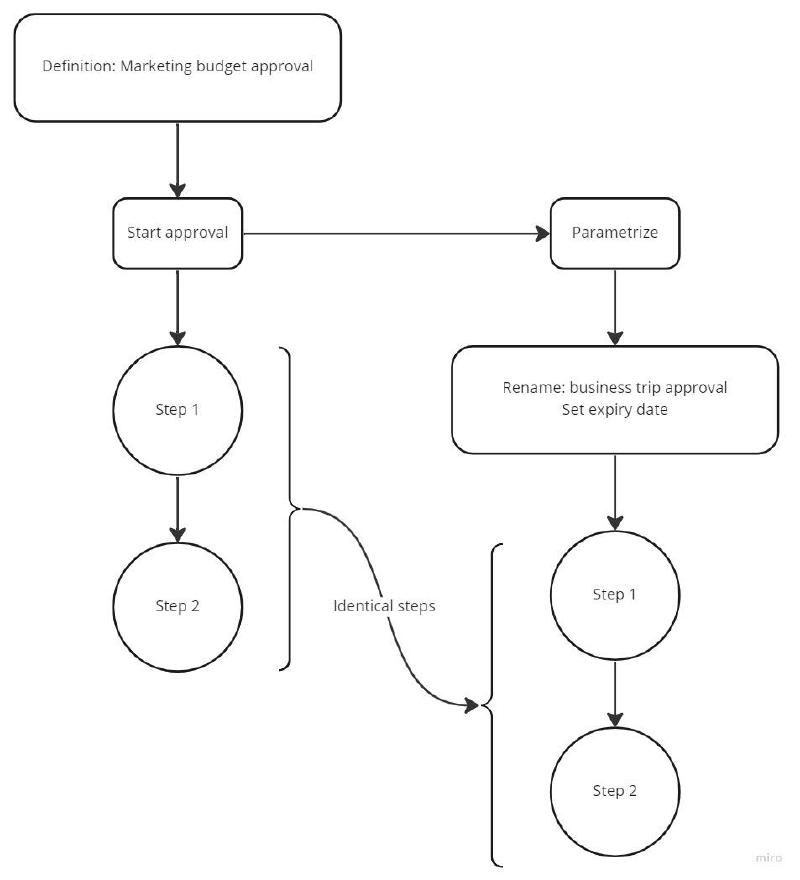 Setting expiry date
Approvals are time oriented at times, if you need approval for the new years company party, then you can't wait till next year! 🥳
Parametrize option will allow you to set a deadline for the approval before you start it!
Security
With users having the ability to change the approval name, right before it start you may be wondering if this is really an update for you, I'm here to tell re-assure!
If you wish to limit this capability, simply navigate to permission schemes! We have created a designated permission scheme for this option! You can enable particular users to have this access or just disabled it altogether! The choice is yours!

---
Useful links
Learn more about permission schemes for Approval Path:
Approval Path for Jira - Permission scheme
Approval Path for Confluence - Permission schemes
Learn how to run multiple approvals simultaneously:
Approval Path for Jira - Multiple approvals
Approval Path for Confluence - Multiple approvals
If you want to advance in dynamic steps, read about our latest dynamic upgrade:
This will allow you to create dynamic steps for external approvers 😎
https://warsawdynamics.com/posts/approval-path-issue-field-email/
Make sure to follow us on LinkedIn to stay updated! And hey, we do hear you so if there's anything you think can be improved, just let us know!