How to Make, Manage, and Sign Contracts in Confluence
Lots of the organizations we encounter are using Microsoft Word, Google, Adobe, SharePoint, and various other tools to create, collaborate on, and store their agreements. Many of these tools don't integrate with each other, putting teams and their data into silos. Silos that breed delays and replication in the contract management process.
With so many more people now working remotely, silos are becoming harder to maintain. Increasing numbers of organizations are looking to centralize their data and achieve a single source of truth, in order to alleviate the confusion and poor data quality that comes from having distributed teams spread across time zones, all working off different information. And they're doing this by moving all of their employees onto a single platform for document management.
Organizations already using Jira for work management and service/IT requests are naturally looking at Confluence, Jira's sister platform, as a means of making, managing, and perhaps even signing contracts. Jira Service Management might already play a part in your contract management process, i.e. you use tickets to get other teams, like legal or finance, to review statements of work (SOWs) from vendors.
But it could be that the agreements themselves are made using various tools – Word, Google Docs, DocuSign – and stored in various places – shared folders, cloud drives, actual physical filing cabinets. shudder
Basically, it's a mess. Wouldn't it be nice to tidy it all up?
In this article we'll talk about why Confluence is becoming such a popular use case for contract management, and how to harness the power of Confluence and Jira together to turn your contract management process into a well-oiled machine.
Using Confluence pages to make and work on contracts
Confluence is an intuitive, user-friendly platform for creating and collaborating on documents. It comes with many of the features you'd expect from a word processor, such as basic text formatting and the ability to change text color and alignment, and add images, links, and bullet points. Most importantly for contracts, you can do live collaborative editing like in Google Docs or make suggestions as to changes using inline comments.
However, Confluence has more in common with website builders like WordPress than it does with traditional text editors like Word, largely because of its content options, pre-formatting, and levels of automation.
Confluence macros for contracts
Confluence pages come with optional macros that let you pull in all kinds of dynamic content. For example, if you insert the Table of Contents macro, this will list all the headings on your page as clickable links. This is useful for finding a term of an agreement quickly, particularly if it's long. The Roadmap Planner macro lets you insert a visual representation of a timeline, so for an SOW this could be a project timeline or representation of project phases. And the task reports macro is used to track progress on open action items on a page, so this could be used to track outstanding changes to a contract.
Confluence pre-formatting
Unlike most word processors, Confluence pages come pre-formatted. It deliberately doesn't give you options for paragraphing and line spacing, nor font type and size aside from the paragraph and heading text types. These might be seen as limitations, but it's because it's designed to be a company-wide documentation repository, with all the documents contained therein having a similar look and feel. Heaven forbid you have someone doing all their documentation double-spaced in Times New Roman, another writing everything single-spaced in Comic Sans. shiver
Confluence version control and page history
Another great advantage of Confluence over most text editors is the version control, aka the page history feature. All changes are automatically tracked. You don't need to turn on "track changes" like you do in Word. And in Word, once those changes are accepted and the document is saved, there's no going back. In Confluence, you *can *go back, because it tracks the history of changes by creating a new version of the page every time it's modified. You're able to compare the updated page with any and all previous versions of it. If you edit the page, whoever works on it next will be able to see exactly what you've changed and when.
Contract templates in Confluence
In both Word and Confluence, you can write a beautiful sales or employment contract and save it as a template. But Confluence is much more powerful when it comes to creating them, and that's because of page variables.
When you create a new agreement based on a template, there are certain bits of text you'll need to enter or change, like party names, dates, definitions, quantities etc. And some of this text will repeat regularly throughout the document. With a Word contract template, you'd have to manually insert the text in all the places you want it, and sometimes you'll need to adjust the formatting to make room for it. It's all a bit repetitive and annoying.
Page variables in Confluence automate this process. When you create a Confluence template, you have the option of adding a text field, a multi-line text field, or a list for any terms likely to change between contracts. Give your variable a name and add it throughout the agreement, in all the places that the text needs to recur. When you create the Confluence page, you'll be prompted to enter text into the field. This action will automatically insert the same text everywhere that the variable appears. For instance, if you create a "Party Name 1" variable, the name you enter in the first field will automatically update the rest, so you only need enter "Party Name 1" once.
Collaborating on contracts with external parties
Creating contracts in Confluence is going to involve collaborating with other teams and indeed other parties to the contract. It's likely that other parties to the contract aren't going to have access to your Confluence instance.
This leaves you with a few options. You give them access by buying them a license and configuring the permissions so that they can only see the contract that's relevant to them (the expensive option). Or you have to export the contract to another platform and send it via email in a different format (the inefficient option).
Most people go for the second option, but the problem with that is you're just creating another silo. And the whole point of moving everybody over to Confluence for contract management is to eliminate silos.
There is, however, a third option: a Confluence add-on calledExternal Share for Confluence. This lets you create a secure link to a Confluence page in just a few clicks, which you can share with whoever you want. These links have unique, 16-character URLs with optional time limits and passwords for extra protection. While they're read-only to stop your Confluence pages being edited externally, you can allow external users to add comments for suggested edits, as well as attachments. This allows collaboration on contracts to continue inside Confluence instead of on some other platform, but without the expense and complication of adding new licenses.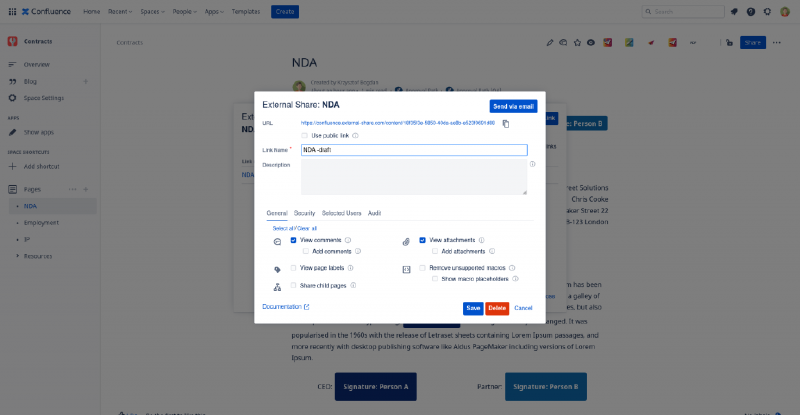 The creation of an External Share link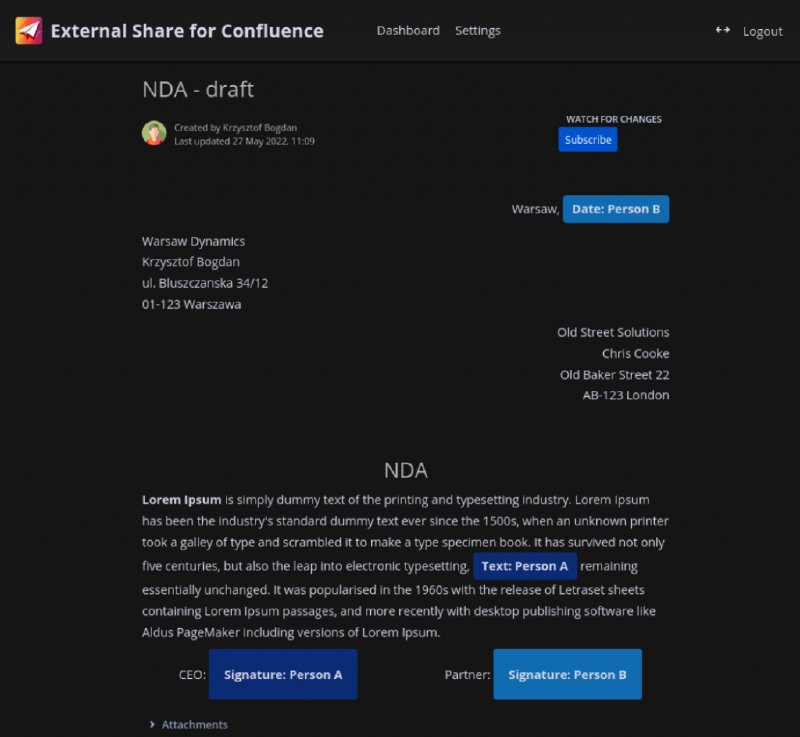 A page shared using External Share for Confluence (in dark mode!)
A recently added feature of External Share for Confluence is the ability to share Confluence pages only with selected external users, users who need to have an External Share for Confluence account to view the page. As agreements often contain sensitive personal and commercial information, the Selected Users feature acts as an extra layer of protection when you're sharing your agreements with external parties.
Using Confluence to digitally sign contracts
In many corners, the most important part of the contractual process – actually signing the thing – hasn't caught up to the 21st century. Many companies still make people agree the old-fashioned way. Documents have to be printed out and signed by hand, then scanned and emailed, or posted. And many companies feel inclined to keep these paper copies of their contracts somewhere in the office. Frankly, it's all a massive waste of paper, ink, postage costs, filing cabinet space, and worst of all, time.
Some companies have started electronically signing contracts using a platform like DocuSign. This saves time and paper, but it takes the contract and the audit trailoutsidethe platform you're working in. You have to export the contract to DocuSign and continue the process in the DocuSign platform instead. This adds complication, another data silo, and another barrier to achieving a single source of truth.
Ideally, if you're making contracts in Confluence, you want to be able tocompletethem in Confluence too.Contract Signatures for Confluence is an Atlassian Marketplace add-on that lets you do this. Parties can digitally sign contractsinConfluence, without you having to add them to your Confluence instance.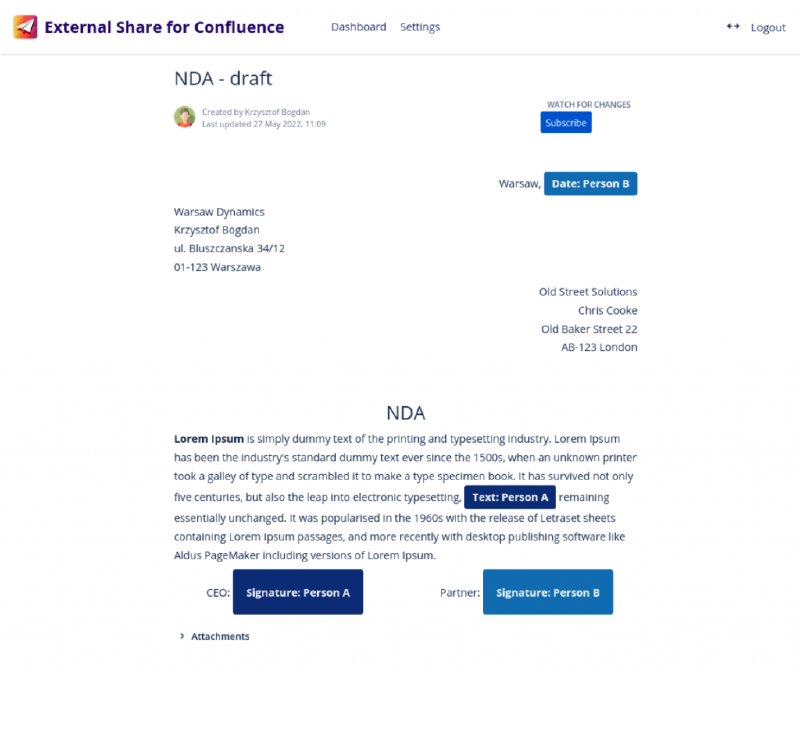 A Confluence contract with signature and text fields generated using the Contract Signatures macro
Contract Signatures for Confluence behaves a bit like External Share. It lets you send a read-only Confluence agreement to an external signee, who's then able to upload a scanned signature to the document from their device, or even write their signature onto the document using their mouse or touchscreen. The app comes with full mobile support, so parties can digitally sign Confluence contracts using the touchscreen on their phone.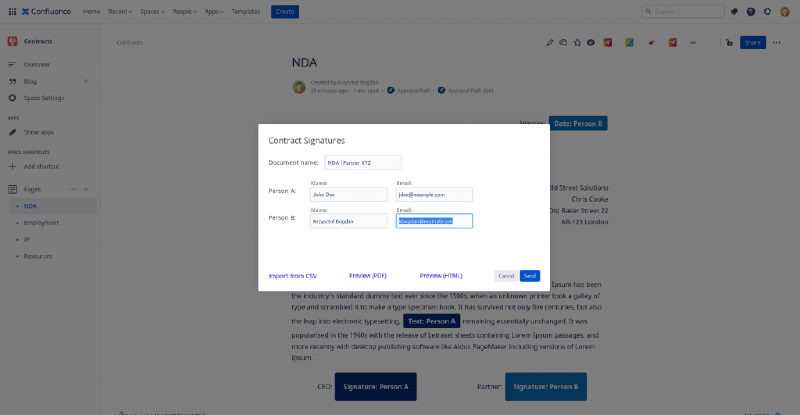 The sending of a finalized contract to a signee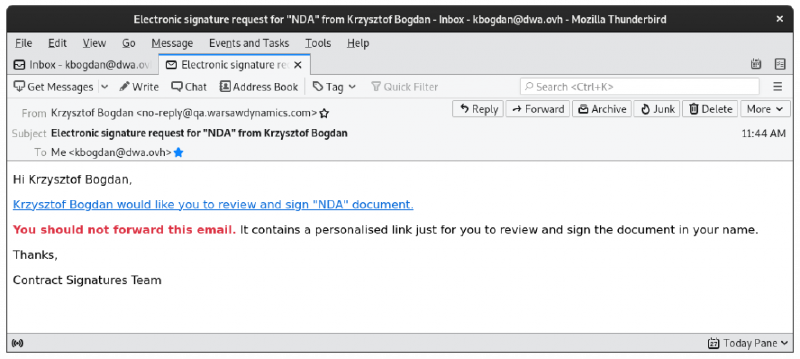 Email received by the signee
Once a document is signed using Contract Signatures, a full audit trail is generated in Confluence and additional documents are created should you need them. These include HTML and PDF versions of the signed contract and an audit certificate.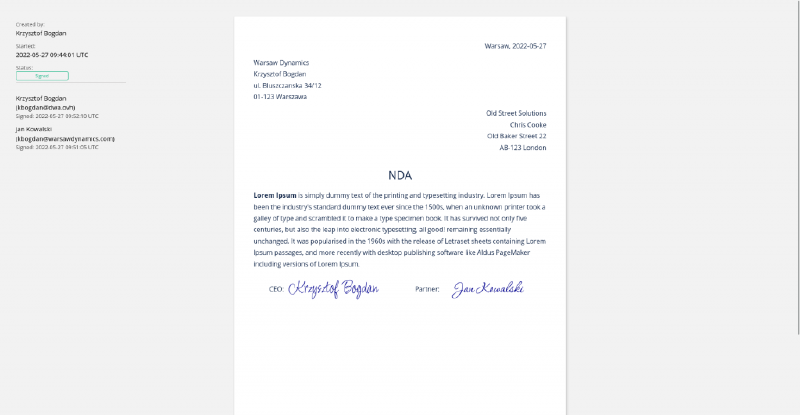 A completed contract, marked "signed" with signature date and time details
To know more about how Contract Signatures for Confluence works, have a read of this article.
Using Confluence AND Jira to manage contracts
While Confluence can become the place where all your contracts are worked on, completed, and stored, Jira can become the place where you track the work that's done on them. Jira is great at holding items that represent specific tasks and letting you track the status of that task. For example, Jira supports custom fields where you can define things such as contract renewal and expiration dates and remind teams to take action.
Linking Confluence pages to Jira issues is super-easy and can be done automatically. It enables you to track the status of your contracts in Jira, and also do some reporting on them. You can look at the number of contracts in progress, under review, or completed, contract types and values, contracts by region, due dates, assignee etc. You can also create a Jira dashboard to report on all your contracts, and there are add-ons available so you can customize these dashboards and make them easier to manage.
In effect, Confluence acts as your collaborative workspace and repository and maintains an audit trail of changes, and Jira acts as your status tracker to understand the level of completion on each contract.
Conclusion
Confluence is an increasingly popular platform for contract management. This is because of the collaborative capabilities and levels of automation it offers next to traditional editors, and because of its links with Jira, which many teams are already using.
The problem with native Confluence is that collaboration can only go so far if the parties who need to agree are not on your instance. If it's a new employee, a customer, or an external partner, they're probably not. So, in order to get them to review a contract, it needs to be turned into a PDF or a Word document and emailed. And then, when the contract's ready for signing, it needs exporting again, this time to a digital signature platform like DocuSign.
The Atlassian add-onsExternal Share for Confluence andContract Signatures for Confluenceprevent you from having to export the contract at any point. Together they enable external users to view, comment on, and digitally sign the agreement, completing the contractual process directly in Confluence.
If you're looking to fully centralize your contract management and cut out half a dozen tedious manual processes associated with reviewing, signing, and storing them, this is the way to do it.