Achieving a Single Source of Truth in your Organization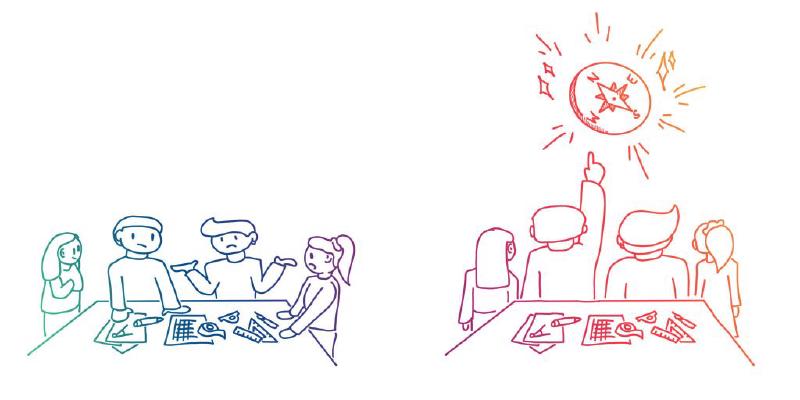 Single source of truth (SSOT) is a concept used to ensure that everyone in an organization makes decisions based on the same data. In document management terms, it's about centralizing all relevant and up-to-date documents about your company and projects so that they're accessible from one place.
Why is it important? Because if your teams are storing important documents in personal inboxes or saving them to desktops and folders that no one else can access, they're effectively hiding information from the rest of the team. This makes it very difficult if not impossible for everybody to be on the same page when they need to be. Cue mistakes and missed deadlines, not to mention version control issues on projects.
SSOT is how you avoid this. Instead of your employees clambering over a ton of wrong answers, outdated answers, and duplicated answers in your system, they're able to find the right answer straight away – because it's the only one that's there.
SSOT: simple to understand, not so simple to implement
Although SSOT is a simple concept, it can be far from simple to implement. That's because most organizations have a tangle of disparate pieces of software all over their business, which they've purchased over years to facilitate different tasks. And while many of these tools are great and do exactly what you need them to do, they're likely part of a proprietary ecosystem. That means they're capable of integrating with the other business tools in that ecosystem, but not outside it.
As a result, most businesses have bits of Microsoft, Google, Atlassian, and many more. These tools don't all play well together because they're not designed to, and because the tech companies really only want you using theirtools, not their rivals'. The problem is, when development, sales, HR, admin, and other departments are all using different software, and these tools aren't properly integrated and exchanging data, consolidating the company's information becomes difficult and time-consuming. This in turn can result in poor data quality and accessibility capable of delaying decisions or leading to bad ones.
"Too many tools" in a remote working age
Sure, most organizations have been suffering from this "too many tools" syndrome and by and large coping with it for decades. However, the post-2020 working environment is a distributed one. That's made getting everyone in your organization on the same page not just an ideal but a necessity. Gone are the water cooler moments when you'd be able to quickly update your colleague on a project. Now that teams are remote and in many cases spread across time zones, getting them all working off the same information takes a lot of discipline. Particularly if they're in different software platforms.
Which is why they shouldn't be. Document collaboration is much easier if everybody's editing the same document, rather than a muddle of Word docs, Google docs, PDFs, spreadsheets, and emails. Attaining a single source of truth in your organization means getting as many users as possible to adopt a single platform, like Confluence.
The problem with Word and Google Docs
Migrating everybody over to a single platform is easier said than done. First you have the issue of people being quite happy using the tools they've always used and are familiar with. Everybody balks at change, particularly if they see it as an "it ain't broke, don't fix it"-type situation. It's your job to explain why it is broken and why everyone using a platform like Confluence can fix it.
For instance, when I joined Old Street Solutions, I myself kept using Word documents on my computer for a while, for writing articles like this one. This wasn't very conducive to fast, efficient collaboration. Those Word docs sat on my computer, never seen by anyone else unless I emailed them to someone. Sure, my colleagues could then write comments on the document or make tracked changes. But I can't see their comments and changes till they send them back to me. A Word docs isn't a live document unless you save it to something like SharePoint or OneDrive and turn it into one.
Eventually I graduated to Google Docs, which arelive documents, stored online in the cloud. However, having a bunch of Google Docs in a shared Google Drive folder isn't very visual, dynamic, or navigable. Nor is it easy to scale when you have lots of documents. And because it's not open by default, files and information can get lost in unshared folders.
Why I made the leap to Confluence
Confluence is more than just a document management platform. It's an online workspace and knowledge base. Confluence content is open by default; you don't have to share pages with people like you do with Google Docs. They're there for your colleagues to find unless you add restrictions. Moreover, they're easier to find thanks to Confluence's intuitive space/page structure keeping all your documents visible, organized, and navigable. Meanwhile, activity feeds and instant notifications keep you notified on what your colleagues are working on. It's much more transparent.
It's because Confluence is a wiki, i.e. a collaborative website, whereas Google Docs is just a word processor that happens to be online. Really, Confluence has more in common with WordPress and other website builders than it does with conventional word processors.
What I soon discovered was that being more like a website builder than a word processor makes Confluence easier to use. In word processors, you have to worry about formatting – font type, font size, paragraphing, line spacing etc. In Confluence, these things are decided for you. Sure, you have less control over what your document looks like, but do you need it? In a document management platform you use internally? I'd argue not really. And creating an article in Confluence is a little quicker than in Word or Google Docs because you don't have to think about that stuff.
Confluence also comes with a ton of other extras, like page templates and macros. Macros are bits of other content that you can add to your Confluence pages, like a table of contents, an info panel, a quote, or a tickable to-do list. None of these things are possible in Word or Google Docs without much more granular setup.
Best of all is Confluence's version control. All changes are automatically tracked and the page history feature enables you to compare updated pages with any and all previous versions of it.
With my colleagues already in Confluence, I knew I should at least try it, particularly given the fact that we're a distributed and fully remote team, spread across multiple time zones. When I saw that Confluence was a workspace as well as a place for making and storing documents, I knew I'd be able to collaborate better there. And I can.
The key to greater adoption of Confluence? The Atlassian Marketplace
If you have people in your organization who aren't coming to the same realization as I did on their own, it's time to start making Confluence a more enticing prospect. How do you do that? By making sure Confluence can do the things they need it to do, easily. And how do you do that? Marketplace add-ons.
The Atlassian Marketplace is home to thousands of apps that allow you to tailor your Confluence instance to your needs. There are apps that make Confluence easier to use and apps that extend native Confluence's functionality for teams that need it to do more.
The sheer volume of apps can make the Atlassian Marketplace hard to navigate when you don't know exactly what you're looking for. In order to not get lost in the weeds, our advice is to find out what tools your employees are currently using, and what features they need, and then have a look through the app categories for a match.
For example, a number of your employees could be using Excel for various business activities, including project management, budgeting, and reporting. But an Atlassian Marketplace app like Elements Spreadsheet might persuade them to ditch Excel and start working in Confluence. This app, from Atlassian Gold Partner Elements, embeds a spreadsheet into a Confluence page and offers all the core functionalities of Excel, including multiple tabs and 400+ formulas. Number crunching in Confluence, anyone?
Moreover, Marketplace apps for Confluence can improvethe way things are being done in other platforms, making the shift to Confluence even more enticing. For example, many companies write contracts in Word, Google Docs, and various other word processors. Then, when it comes to the most important bit – getting them signed – they have to export the contract to an e-signature platform like DocuSign. This generates extra admin, puts sensitive contract information in more than one place, and makes it difficult to track which agreement is which.
However, if you were to use Confluence to write, collaborate on, and store contracts, you can use the Atlassian Marketplace app Contract Signatures for Confluence to execute the signing process. Because this is an e-signature app that integrates with Confluence, you're able to send contracts for signing without ever leaving Confluence AND without adding signees to your Confluence instance. This would streamline your contract management process dramatically while saving on Confluence licenses.
Conclusion
If you want to get as many users as possible to adopt a single platform like Confluence, the first thing to do is talk to the people you want to be using it. Find out what tools they're using, whether they're happy with them, and why. These conversations will reveal how much persuading and demonstrating you need to do.
Then, once you've got their buy-in, supporting them during and after deployment is important, too. Lots of tools get dropped into employees' laps with the expectation that they'll just get on with it. If you don't continue to engage with your employees post-deployment, they might decide the new tool's a bit too much hassle and revert back to the old one.
Ultimately, though, it's the tool itself that will win people over. Vital to the success of any deployment is a user interface that's simple, familiar, and easy to use, because if it's not, your employees simply won't use it. Fortunately, Confluence is a hugely intuitive and user-friendly tool that's actually easier to use than most word processors thanks to all the powerful on-page automation.
And if there's something Confluence can't do that your employees' current tools can, search the Atlassian Marketplace and install an add-on. That way you will make Confluence a more attractive prospect and the transition to the platform less jarring.